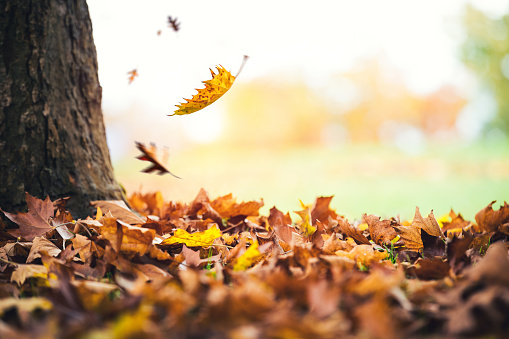 The leaves are changing color, the air is getting crisper, and pumpkin spice everything is finally back in stores. Yes, autumn is officially here! As the days get shorter and the temperature drops, it's time to start thinking about how to prepare your landscape for fall.
This blog post will give you 10 tips on how to keep your seasonal landscape looking its best. Read on to learn!
Make Your Landscape Thrive This Fall Season With Our Tips
As your landscape adapts to the new temperatures, you must keep pace with mother nature. Bring the best form this season using these 10 tips.
#1 Keep Up With The Leaves
Rake them up regularly to prevent them from smothering your grass. Besides the unsightly appearance and the decreased curb appeal, it can lead to mildew and mold growth.
#2 Mulch Your Flower Beds
Turning the mulch on your flower beds help protect your plants from the cold temperatures of winter. Keep the mulch around 2 to 3 inches thick to avoid creating a hiding place for insects.
#3 Hardscaping Maintenance
Now is the time to check for cracks or damage to your hardscaping features, such as sidewalks, patios, and driveways. Cold weather can cause these cracks to worsen, so it's best to repair them now.
#4 Divide & Transplant Perennials
If you have overcrowded flower beds, now is an excellent time to divide and transplant perennials. This will give them a chance to establish themselves.
#5 Test Your Soil
An annual soil check can help determine what amendments need to balance on your landscape. Soil tests ensure that your plants are getting the nutrients they need.
#6 Aerate Your Lawn
Aerating helps improve drainage and reduce compaction. Your grass roots will appreciate having this treat.
#7 Fertilize Your Lawn
Fall is ideal for fertilizing your lawn. The cooler temperatures slow grass growth, giving the fertilizer more time to work its way into the soil.
#8 Bring Patio Furniture Inside (Store It In A Garage Or Shed)
Storing patio furniture indoors or in a sheltered location will help prolong its life. It can also prevent it from being damaged by wind and rain.
#9 Prune Trees & Shrubs As Needed
Fall is an excellent time to prune trees and shrubs since they are no longer actively growing. It will help promote new growth in the spring. Prune the overhanging tree branches on your roof, and you won't like to deal with that during a winter storm.
#10 Check Your Irrigation System
This step is crucial if you have an underground system, as leaks can quickly go undetected and cause significant damage. Fall is the ideal time to check if your irrigation system is properly working. Now is also a good time to flush out your system and clean away any debris accumulated over the summer.
Plan Your Gardening & Lawn Care Calendar Ahead
Use these tips as a guide to planning your landscape maintenance calendar. By staying ahead of the game, you can ensure that your landscape will look its best all autumn long! If you need help with any of these tasks or don't have the time, contact a professional.
Get Your Seasonal Landscape In Control With Miller's Landscaping
If you're looking for help in getting your landscape ready for fall, Miller's Landscaping is here to help. We have the expertise and equipment necessary to get the job done right. We pride ourselves on our dedication to excellence and our commitment to customer satisfaction.
Discover a variety of services at Millers Landscaping. We guarantee exceptional results with our landscaping services. Our expert landscaping business can enhance your home's curb appeal this fall, regardless of your landscape conditions. Schedule an appointment and get your outdoor check.