There are ma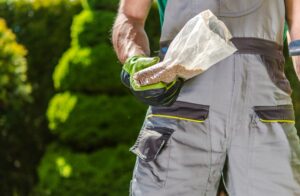 ny benefits to working with landscape professionals. Perhaps the most obvious is that they have the training and experience necessary to get the job done right. They can help you upgrade your commercial or residential landscape, whether adding new features or repairing damaged areas.
Landscape professionals can also help you save time and money. They know how to use plants and materials efficiently, so you don't waste resources on unnecessary features. They can also help you plan your landscape to be easy to maintain. This can save you a lot of time and hassle in the long run. If you're not sure why it's so important, here we give you 5 benefits you need to know.
Keep reading down below.
_________________________________
5 Advantages Of Hiring a Pro to Handle Your Landscape
When it comes to upgrading your commercial or  residential landscape, working with a professional landscaper has countless benefits. Not only will they get the job done quickly and efficiently, but they can also help you save time and money in the long run. So if you're thinking about making some changes to your residential or commercial landscape garden, be sure to call a pro for help.
#1: Expertise and Training
Anyone can claim to be a "garden expert." Still, not everyone has the training and experience of working as a landscape professional. By hiring a pro, you can ensure that the work will be done correctly, using the best techniques and materials.
#2: Access to High-Quality Plants and Materials
Professional landscapers have access to high-quality plants and materials, which can be expensive if purchased individually. You can take advantage of these materials at a fraction of the cost by hiring a pro.
#3: Efficiency and Planning
Landscape professionals are efficient and well-organized, which means they can get the job done quickly and without a lot of wasted time or effort. They also have the experience to plan your garden properly so that it's easy to maintain in the long run.
#4: Cost-Effective Solutions
Many landscape professionals offer cost-effective solutions for upgrading your garden. For example, they may suggest plants that are low-maintenance or don't require a lot of watering. They can also help you save money on materials by recommending the most efficient use of plants, stones, and other materials.
#5: Peace of Mind
Hiring a professional landscaper gives you peace of mind knowing that the job will be done right and that you won't have to worry about it again. You can focus on enjoying your garden instead of fiddling with plants and trying to figure out what goes where.
Let Us Handle Your Landscaping Needs
 At Miller's Landscaping, we pride ourselves on providing our customers with the best landscaping services and expert team in the industry by using quality materials and installing features properly. We'll help ensure that your residential or commercial landscape lasts for years to come. So if you're looking to upgrade your landscape, be sure to work with us.