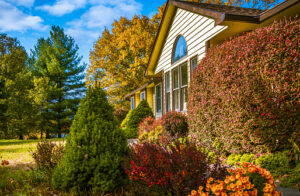 As fall approaches, it's time to start thinking about how to prepare your landscape for the colder months. Just like you take care of your home during the winter, you must ensure your landscape is ready too!
This blog post will share the most vital tips for maintaining your landscape during the fall. Following these guides will ensure a beautiful fall landscape and allow it to bounce back healthier in spring! Read on to learn all about fall landscape maintenance!
How To Prepare For Fall Season
Break down your fall landscape maintenance using a schedule and plant classification or lawn needs, and you'll find your to-do list easier than you think. These checklists will guide you weekly and help keep your yard looking its best all season long.
Fall Lawn Care
Fall lawn care is simple when you know your outdoor needs. Landscape enthusiasts neglect essential aspects like watering or mowing as lawn growth slows down. But, properly caring for your lawn during the fall will ensure a green and healthy spring. Here are the tips to take care of your lawn this fall:
Test your soil before fertilizing or seeding to find out what nutrients it's lacking.

Use a fall grass fertilizer on your lawn. (higher nitrogen concentration)

Aerate compacted soil to improve drainage and nutrient absorption.

Overseed new lawns or spots that need refreshing.

Rake leaves as necessary.
Fall Trees and Shrubs Maintenance
Like your lawn, your trees and shrubs' growth slows down and requires particular care during this season. Use these tips to keep them healthy and looking their best:
Mulch and water flowerbeds.

Prune tree branches overhanging your roof.

Rake and compost leaves.

Trim back overgrown shrubs.

Mulch around trees and shrubs

Clean up rotten, fallen crops and leaves from fruit trees
Fall Garden Maintenance
When it comes to your garden, now is the time to start preparing it for next year. Here are some tips on how to take care of your garden this fall:
Harvest any remaining crops.

Remove dead plants and weeds.

Add compost or manure to improve the soil's quality.

Cut back perennials to 6 inches above the ground.

Divide and replant overcrowded perennials.

Harvest vegetables before the first frost.

Plant spring-flowering bulbs.
Keep Your Fall Maintenance Up-To-Date
By following these tips, you'll guarantee a head-turning look landscape! Remember – regular maintenance is key to keeping your landscape looking its best. In case you require assistance with your fall landscape duties, make sure to hire landscaping services.
Miller's Landscaping Keep Your Fall Landscape In Tip-Top Condition
Are you looking for reliable landscaping services? Look no further than Miller's Landscaping. We're a family-owned and operated business providing top-notch lawn and landscape care. Our experts will ensure your property gets the proper care as the temperature drops.
At Miller's Landscaping, we strive for excellence on every project. From lawn care to tree pruning and mulching, our landscape services are second to none. Schedule your appointment with us and improve your home's curb appeal.