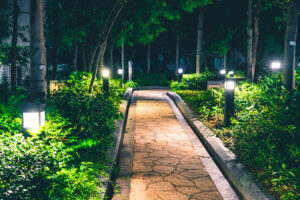 As the seasons change, so does your landscape. As each season passes, the landscape is transformed, providing a never-ending source of beauty and wonder. Fall brings cooler temperatures and shorter days, causing leaves to change color and fall from the trees.
Now that fall is officially here. It's time to start thinking about ways to make the most of the season's natural beauty. You can take advantage of plenty of things in the autumn landscape, from planting trees and shrubs to adding lightscape details to your yard. Read on for some ideas on how to create a gorgeous fall landscape.
Top 3 Ideas To Make Your Landscape Fit The Season
The landscape around your home should be an extension of your indoor living space – a place where you can relax and enjoy the outdoors. However, landscape maintenance can be a lot of work, especially if you constantly have to adjust your plants and decorations to fit the season. If you're looking for ways to make your landscape fit the season with minimal effort, here are 3 ideas to get you started.
Garden Illumination
As the days grow shorter, many homeowners begin to think about ways to spruce up their yards for the fall season. Using lighting, you can add or alter outdoor lighting. You can create a warm and inviting atmosphere that will make your yard envy the neighborhood. Here are a few ideas to get you started:
Path Lights
They add some ambiance to your yard and serve a practical purpose by lighting the way for guests. Consider placing them along walkways, steps, and driveways.
String Lights
String lights are a versatile option. They can fit in a variety of ways. Try wrapping them around trees or fencing, or drape them across an outdoor dining area or patio.
Landscape Lights
They highlight architectural features or accentuate certain plants and garden areas. Floodlights are a great addition since they can increase safety and security around your home.
Landscape Design – Seasonal Garden
One easy way to keep your landscape looking seasonal is to choose low-maintenance plants that will bloom at different times throughout the year. This way, you won't have to do much work to keep your landscape looking fresh. 
Another idea is to create separate areas in your landscape for different seasons. For example, you could plant a sunny spot for spring and summer and a shady one for fall and winter. Then, all you'd be required to do is switch out your decorations accordingly.
Compose & Mulch The Debris
Fall is the perfect time to apply mulch. A mulch layer helps suppress weeds, regulate soil temperature and moisture levels, and prevent erosion. Mulch gives your garden a tidy look as the growing season ends. 
Fall is also a great time to compost. As you clean up your garden beds, pull up dead annuals, and trim back perennials, you'll generate a lot of organic matter that can improve your soil.
Get A Professional Treatment For Your Landscape With Miller's Landscaping
The fall is the perfect season to invest in professional landscaping services. At Miller's Landscaping, we offer a wide range of services to help keep your property looking its best. From garden illumination and landscape design to landscape maintenance, we can help you create and maintain a beautiful outdoor space.
Fall is a great time to plan for next year's planting season. Our landscape design team can create a custom plan that considers your property's unique features and desired aesthetic. So don't wait and contact Miller's Landscaping today! Let us help you design the perfect outdoor space for your home or business.