Professional
Landscaping

Services in Williamstown, NJ
Miller's Landscaping offers Lawn Mowing, Landscaping, Landscape Design, Fertilization, Aeration and Seeding, Lighting, Mulch, Snow Removal and more! Call Today For Your Free Quote – (856) 832-7958!
Lawn Care Williamstown NJ
Williamstown's Experts in Lawn & Landscape
Nothing beats a well-manicured lawn to keep your home looking great. If you're not up for maintaining your yard on your own, don't worry – Miller's Landscaping professional lawn and landscaping services in Williamstown, NJ, can take care of everything for you.
At Miller's Landscaping, we offer top-quality services for both residential and commercial properties. Contact us today to schedule an appointment!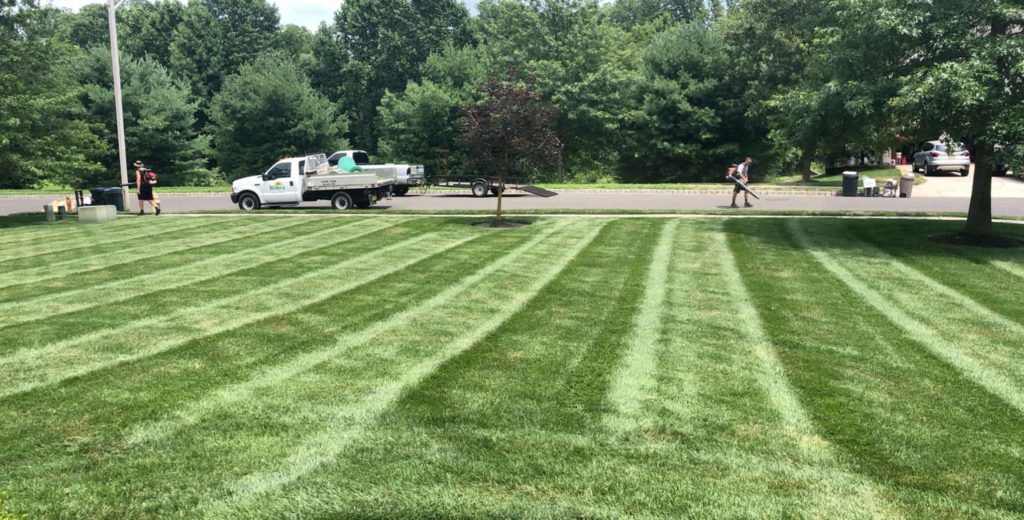 Miller's Landscaping Residential Solutions
At Miller Landscaping, we understand that every home is unique. That's why we offer various services to meet our clients' needs. With our services, you'll enjoy a beautiful outdoor you can feel proud of.
Lawn Care & Maintenance
No two lawns are alike, so we offer various services to meet your yard's unique needs. From mowing and edging to fertilization and weed control, we'll keep your lawn looking its best all year. We also offer seasonal services such as fall cleanups, spring plantings, and more.
Professional Landscape Design & Installation
A well-designed landscape can add both curb appeal and value to your home. At Miller's Landscaping, our design professionals will work with you to create a custom plan that meets your needs and budget. We'll then handle all aspects of the installation, from start to finish.
The Advantages Of Miller's Landscaping
When you hire Miller's Landscaping, you'll be able to create & enhance your outdoor living space without lifting a finger. In addition to being able to sit back and relax, you'll also enjoy the following benefits:
Increased curb appeal and property value.

More free time to do the things you love.

Pest & weed-free yard.

Greater enjoyment of your property.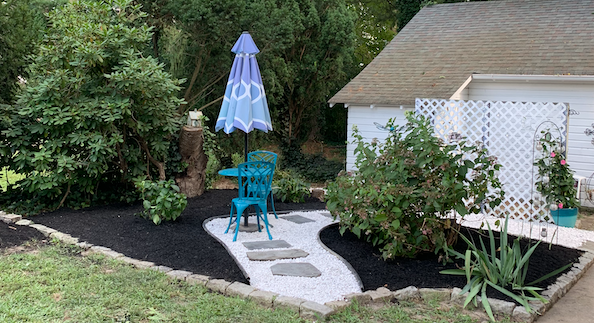 Landscape Design in Williamstown, NJ
Improve the quality and value of your home or business with professional landscaping services from Miller's Landscaping! Our business offers quality service at an affordable price. We use professional-grade supplies and hire qualified installers, ensuring that you get the best results when you work with us in Williamstown and all over New Jersey!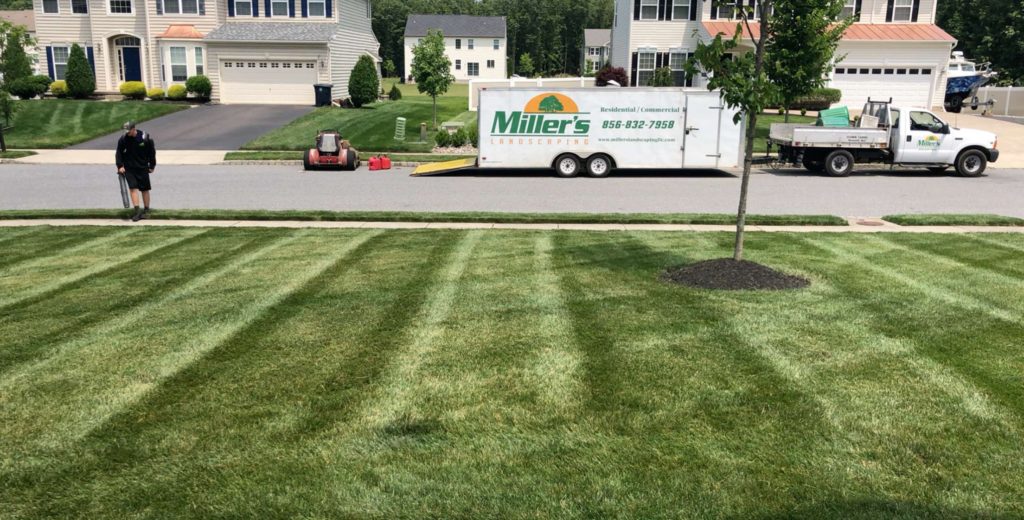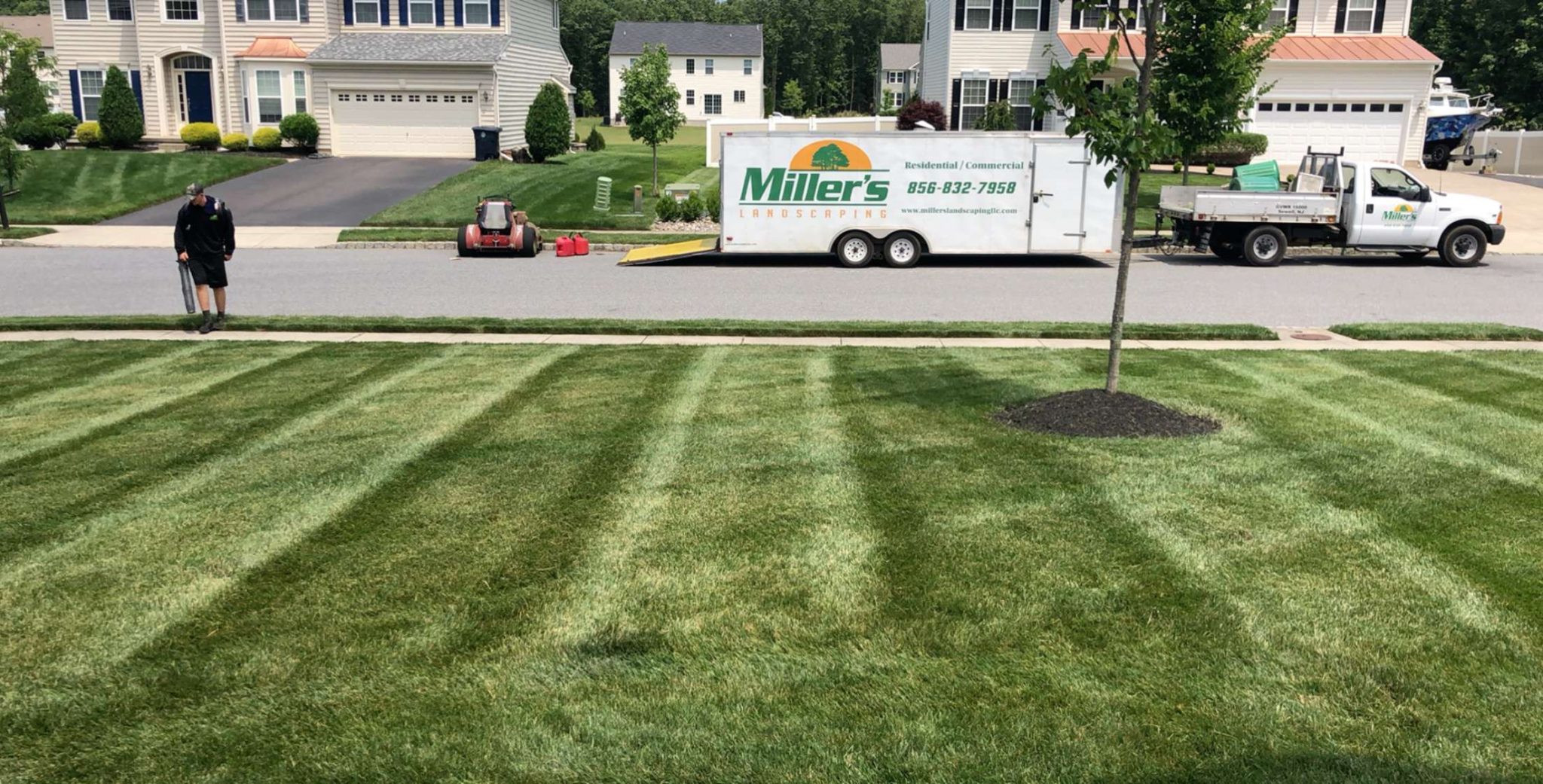 Lawn Mowing in Williamstown, NJ
Keep your lawn looking fantastic all year with lawn installation, fertilization, and maintenance services from the pros at Miller's Landscaping! We offer one-time and reoccurring lawn services for residential and commercial properties. We guarantee satisfaction on every job from beginning to end. Get the lawn of your dreams when you work with our experienced, professional landscaping team!
Lawn Care in Williamstown, NJ
Caring for your lawn in Williamstown is the difference between your home looking sad and unkempt or looking like the house everybody wants to spend time at. You don't have to settle for patchy, brown, thin grass marring your yard any longer. Miller's Landscaping can ensure your home has that sought-after curb appeal and that your yard stays vibrant and healthy. Our professional local service will come to your home to ensure your lawn is looking its best.
We provide pest and weed control, trimming, bagging, seeding, and aeration services. Whatever your lawn needs to catch up to the Joneses, we can provide it at an affordable price. We work with many different breeds of sod, so we can ensure we can take care of your lawn no matter what type of grass you have at your home or business.
Call today for your complimentary quote or fill out an online consultation request form. We will help you get your lawn ready for the spring and summer months, satisfaction guaranteed. Remember, Miller's Landscaping has the best lawn care & lawn mowing in Williamstown!
Landscaping in Williamstown ,NJ
At Miller's Landscaping, we are dedicated to you, your lawn, and your plants. We take great pride in getting to know you and your property in Williamstown, so that we can ensure your lawn is picture-perfect, no matter the season. Not only can we maintain and accentuate your current landscaping in Williamstown, but we can also design and install brand new projects as well. Let us help you achieve your ultimate landscaping vision for your home.
Our locally owned and operated business in Williamstown, NJ provides our community with the absolute best in landscaping through a wide variety of trees, flowers, grasses, and more. All of the plants we utilize are carefully chosen for your area to provide the most aesthetic beauty for your home or business. We use the latest in landscaping technology and our meticulous attention to detail to give you the perfect results.
We offer mulch installation, tree & shrub trimming, flower bed weed control, and much more. Call today to schedule your free consultation. Get your landscaping back in control with the best Landscaping company in Williamstown NJ.
Landscape Design in Williamstown, NJ
Here at Miller's Landscaping, we work tirelessly to design the lawn of your dreams. We handle the design, installation, and maintenance of your new landscaping project. We are proud to say that we provide the best Landscape Design in Williamstown (or the state for that matter). Our designers know the area of Williamstown NJ intimately and can give you the best suggestions based on flowering and climate.
Imagine a yard filled with flowering trees, beautiful shrubs, and verdant leaves, all beautifully coordinating with the facade of your home. This dream is possible with our expert design team, who can walk you through every stage of the process. Before the installation even begins, you will know exactly what the results will be with visual mockups of your home or business with its new landscaping in Williamstown.
Our experienced and professional landscaping team is a pleasure to work with. We guarantee satisfaction with your design experience from beginning to end. Contact us online for a free estimate and to get your new project scheduled today.
Hardscaping in Williamstown, NJ
Landscaping is only a piece of the equation when it comes to a perfect house facade suited for a magazine here in Williamstown. Hardscaping will give your property a facelift and ensure comfort and convenience outside your home. New pavers and stone patios will give your place that much-desired curb appeal, and it'll be the envy of your Williamstown neighbors!
Now is the time to plan for patio installation. Expand your workable outdoor living space and give your family an area to create memories for a lifetime. Or, upgrade your driveway to a beautifully paved alley, a much more affordable option than pouring concrete, and more aesthetically pleasing than gravel. We can even install non-slip pavers around your pool area, ensuring the whole family has safe and hassle-free fun in your beautiful back yard.
Whether it be for a new driveway, patio, pool deck, or walkway, our expert team will ensure that we hit the mark for your project. We will pay attention to every last detail, ensuring the color and size of your pavers accentuate your home and landscaping.
Call our Hardscaping experts today to schedule your free consultation and discover how you can bring your Williamstown home to the next level.
Mulch in Williamstown, NJ
Have you found the mulched areas of your lawn looking old and dreary? Do you dread handling bags of mulch in your clean car, only to spend hours spreading the mulch perfectly? Then its time to bring your landscaping to the next level with professional mulch installation in Williamstown.
With the professional services at Miller's Landscaping, we can ensure a clean and professional look that is hard to achieve with hand spreading. Our professional services will ensure that your yard is the talk of the town, and your satisfaction is guaranteed.
If you want the most professional and affordable mulching services in Williamstown NJ, then our team is for you. Pick from a variety of mulch options to give your landscaping the perfect finishing touch.
Did you type "landscaping services near me"? call Miller's Landscaping today to schedule your mulch installation. We can cover both large and small projects with a wide variety of different mulch types to suit your landscaping design and personal aesthetics.
Aeration & Seeding in Williamstown, NJ
If your yard is looking a little sparse after the difficult winter months in Williamstown, you may not need to shell out hundreds or thousands of dollars on new sod. Miller's Landscaping offers Aeration and Seeding for your lawn that may be just what the doctor ordered.
We are able to provide seeding to patches in your yard to keep everything nice and even. Or, if your lawn is looking thin and sparse overall, we can provide over-seeding services over your entire lawn to make it full and lush. Be ready for the busy summer months spent outside by ensuring you have a lawn full of verdant grass any child would love to run on.
Most lawns require seeding every year or so, so to keep your lawn looking fresh be sure to schedule a free consultation today.