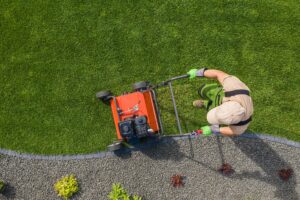 Like most homeowners, you probably take great pride in your home's exterior. You may have worked hard to make it look just the way you want, and you want to be sure that it stays looking good. One of the best ways to do that is to hire a professional landscaping services company.
This blog post will discuss 4 things to look for when choosing a landscaping company.
4 Essential Things To Look For In A Landscaping Services Company
There are so many different offers out there. Getting to know each landscaping service company may seem daunting, but it doesn't have to be. When considering a landscaping service "near me," you should take a look at these 4 essential points:
Enthusiasm And Passion For Their Craft – Attitude Tells You Everything
Customer service is the first indicator of how reliable & good a company is. Look for a company willing to help answer your questions with a spirit. Look for a company whose landscaping crew works with a smile on their face.
Ability To Produce Results – Portfolio Casting
It may seem obvious, but getting to know your future landscaping and lawn care services company is vital. Visit their website and take a look at their projects. You must verify if their work matches and fulfill your expectations.
Schedule Based Appointments – Trustworthy Commitments
Look over their reviews online and get in touch with the company; find out how their appointment system works. The best landscaping services companies show up quickly and work around your work schedules and plan.
Long Term Potential – Amazing Results Takes Time
A curb appeal on your property is a long-term commitment. Choosing a landscaping company is an important decision that will impact the overall appearance of your property. Look for a reliable company that strives for excellence and customer satisfaction.
Are You Looking For A Landscaping Service "Near Me"? Miller's Landscaping Is Here For You
We offer various services to perfectly take care of Sewell, NJ, resident gardens. We have the right team ready and waiting for you, no matter what service you need! Whether it is lawn mowing, tree trimming, or gardening, we are here to help.
One of the most important things to look for when choosing a landscape service "near me" is their experience. Miller's Landscaping has been in business for many years, so we know what it takes to keep your garden looking great!