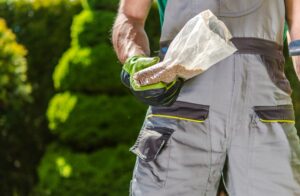 When it comes to landscape maintenance, there are many benefits. Not only will you see faster growth in plants and trees, but the overall appearance of your landscape will be much more vibrant. In addition, properly maintained land is resistant to weather conditions and other damaging factors.
In this blog post, we'll cover in detail the benefits of taking good care of your lawn to achieve curb appeal.
Perks Of Good Landscape Maintenance
The advantages of proper landscape maintenance are not only limited to its appearance. The health of your landscape and lawn increases significantly. The increased resistance to pest and weather conditions during winter, vibrant colors, and abundant foliage during spring and summer are worth the investment.
Here are top 4 benefits you can get from proper lawn maintenance:
Faster Growth Rate
Lawn maintenance helps to improve the growth rates for both lawn and garden. Constant mowing, trimming, and lawn aeration techniques make your garden soil more capable of absorbing water and essential nutrients.
Resistance To Weather Conditions
Plants are capable of resisting weather conditions changes when properly maintained. If plants are treated with the right products, they can become more resistant to harsh weather situations.
Vibrant Color And Abundant Foliage
Vibrant color and abundant foliage is the ultimate goal for any garden keeper or landscaping pro. Lawns and gardens require care and attention to thrive. Whether you own a simple but beautiful lawn or a more elaborated seasonal garden, you need to be able to fulfill their needs.
Mowing, Trimming, Fertilizing, and watering are some of the basic requirements for any lawn or garden to prosper.
Pest Resistance
A well-maintained lawn will allow it to withstand and resist pests such as plant bugs, wasps, fire ants, etc. They might represent harm to your garden but to your family too.
Constant upkeep will allow you to spot early signs of pests in your garden. Removing pests will be easier in its earlier stages, allowing you to get rid of them focused and controlled. Work with professional landscaping services to get professional results.
Miller's Landscaping Is Your Best Ally To Achieve A Curb Appeal On Your Property
When looking for the best possible landscape services for your property, it's important to work with a professional landscaping company to keep your land looking beautiful and healthy!
Miller landscaping is your go-to option in lawn care and landscaping services. We know how to take care of your lawn and garden no matter the season. If you're looking for quality landscaping services that will exceed your expectations, contact Miller's Landscaping!
At Miller's Landscaping, we offer a wide range of services to fit your needs. Get in contact with us to set an appointment.