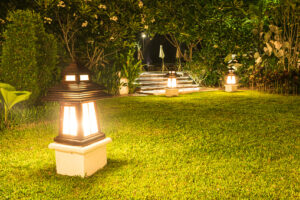 Adding landscape lighting to your residential or commercial landscape can add security, increase the value of your home, and make your property more aesthetically pleasing in the long run. It's perfect for commercial or residential landscapes. It can be used to light up walkways, entrances, and gardens so you can create different perspectives and lighting designs for your property, such as highlighting trees, shrubs, and other features in your yard.
Installing lighting set in your yard can sound easy, but it needs the assistance of a professional and landscaping services for better results. Beyond buying a set of lights, you need an expert to get the job done promptly and to get you quality lighting supplies so they last and evoke the effect you're looking for. Here we tell you how to start with the process; read on. 
Enhance The Appeal Of Your Home's Exterior With Lighting 
Adding landscape lighting to your home can improve its appearance and add value. Here are some tips on how to get the most out of your landscape lighting:
Plan Your Layout Carefully

: Think about the different areas of your yard that you want to light up, and plan accordingly.

Use A Mix Of Standard And Accent Lighting:

Standard lighting can provide general illumination, while accent lighting can add interest and depth.

Pay Attention To The Details:

Make sure your lighting fixtures are properly placed and directed to create the desired effect.

Use Timers And Motion Sensors

: This will help you save energy and money and make your lighting more convenient to use.

Keep Your Lighting Fixtures In Good Condition:

Regular maintenance will help ensure that your landscape lighting looks great all year long.
There are different types of landscape lighting to choose from. You can choose between low-voltage and high-voltage lighting, as well as a variety of different light fixtures.
Benefits
By adding lighting, you can improve the appearance of your property and increase security and safety. 

Lighting can also add a touch of sophistication to your home. 

 Proper lighting can make your property more usable and functional after dark.
Bring Your Home Or Business To Life With Lighting
Upgrade your landscape lighting with a team you can trust. Miller's Landscaping is the leading commercial landscaping company in New Jersey. We provide residential and commercial landscape lighting services design and maintenance landscaping services for homeowners or business owners looking for a reliable company.